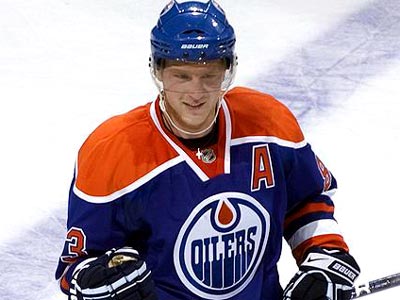 This past year, two very important pieces of the Edmonton Oilers roster underwent two significant surgeries each to repair two critical body parts for the sport of hockey. Ales Hemsky underwent his second shoulder surgery in the past two years, while Ryan Whitney underwent ankle surgery, just after coming back from a second foot osteotomy the season prior. Both players were early first round picks in the NHL entry draft, going 13th overall in 2001 and 5th overall in 2002 respectively, and both are arguably currently entering the prime of their careers. Both players have had to deal with a pretty significant injury history in their young careers, but when healthy both have the potential to be game changers.
At his best, Ales Hemsky is a dynamic winger who can quarterback a powerplay and make opposing defenders look like pylons with his quick hands and high end skill. He has the vision to be a great playmaker and the ability to finish plays when he chooses to shoot the puck. He also isn't afraid to go to the high traffic areas and take a hit to make a play, hence the two shoulder surgeries in two years. Like Hemsky, when he's at his peak, Ryan Whitney can largely influence a game. His puck moving ability allows him to control the point on the man-advantage, and his great first pass is a significant piece to the transition game of the Oilers.
In the past two seasons, Hemsky has played in just 69 games for the Oilers, posting 64 points. Whitney on the other hand, in that same time span has appeared in just 54 games and put up 38 points. Through two months of the 2011-12 season, Hemsky has already missed 11 games and Whitney has missed 17. Yet despite the similarities between them: age, offensive ability, and injury history, the way in which these players are viewed in Oil Country is growing ever disparate.
With Ryan Whitney, despite his early struggles, fans and media alike seem to be willing to show patience and allow him to play his way back into form. His 1 point and -4 rating has been attributed to the significant time and games he's missed, and most are convinced that given enough time, the Ryan Whitney of last season will return, which he almost certainly will. With Hemsky however, Oil Country doesn't seem to have that kind of patience. The fact that he's off of his point-per-game pace and his hesitation to shoot the puck has been a large point of criticism, despite the fact that he has also missed a significant amount of time. The expectations for both players seems to be quite different across Oil Country. If it's unfair for fans to expect Whitney to immediately be an impact player in his return to the Oilers lineup, why is it fair for fans to expect the same of Hemsky?
There has been more and more trade rumblings involving Ales Hemsky these days. While of course his contract status plays a big part in it, in addition to his start to the year, it may be a bit premature to make a move that big. Given his current level of play, Hemsky's value is probably at its low right now, and any move the Oilers were to make would net them something significantly short of what Oilers fans should want in return. Just because Hall, Nugent-Hopkins, and Eberle have been dominating to start the year, it doesn't mean Hemsky is all of a sudden expendable and should be tossed away. There is still almost 3 months until the NHL trade deadline. Between now and then, Tambellini and company need to figure out what Hemsky's level of commitment to this team is and how much of next year's salary cap they can afford to give him, should they choose to re-sign. If free agency is the route Hemsky chooses to take, then the Oilers have to move him, but not until February 27th. Having Hemsky in the lineup will help more than anything he could bring back in a trade right now. If Tambellini can get Colten Teubert, a 1st round pick and a 3rd round pick for Dustin Penner, then Oilers fans should also want something in that ballpark for Hemsky.
But just as fans have demonstrated a willingness to wait for Whitney to turn it around, Hemsky should at least be offered the same amount of patience. He'll play his way out of this slow start, and the Hemsky that Oilers fans know and used to love will eventually return, hopefully.
Follow me on twitter @sportsguy83