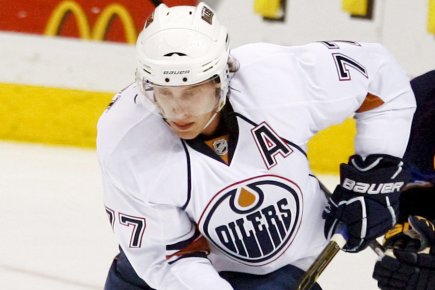 The Edmonton Oilers, as expected, were relatively quiet on what is typically one of the NHL's busiest days. Although Tambellini and company did make one splash in the trade market with a deal that was all but expected. Today the Oilers moved offensive defenceman Tom Gilbert to the Wild for steady, stay-at-home defenceman Nick Schultz. This trade however, unlike so many other Oilers deals of deadlines past, was not about dumping salary, selling assets, or moving a bad fit. This deal instead was a lateral move between two teams who were both looking to fill a void in their rosters. A hockey trade.
Tom Gilbert was originally acquired by the Oilers in 2004, when then GM Kevin Lowe made a trade with Colorado which sent Tommy Salo back the other way. At the time it seemed like a ridiculous deal, but now in retrospect, it was a move made with great foresight. Gilbert broke into the league in 2007-08 with a solid rookie campaign which saw him break a number of Paul Coffey's records for scoring by a rookie defenceman. He followed up that season with another impressive year in which he scored a career high 45 points. Things were looking up for number 77. But since then, it's been a case of diminishing returns from Gilbert as he's had to adapt to a bigger role on the Oilers blue line in recent years. While his offensive output this season has been limited to 3 goals and 14 assists, the other parts of his game appeared to finally be coming around. Forced into a top 2 role with the early season injury to Ryan Whitney, Gilbert started to incorporate a more physical element to his game and started to mature into more of a two-way defenceman. Although his play in his own end still didn't match his abilities in the other, Gilbert was playing with a new level of emotion not seen in years past. But unfortunately for Gilbert, another player on the Oilers blueline was starting to find his NHL game as well. If it wasn't for the significant strides that Jeff Petry has made in his game this season, Tambellini likely wouldn't have had the confidence to make this move today. Between Petry, Whitney, and Gilbert the Oilers back end was loaded with puck movers and something had to give.
In Nick Schultz the Oilers are getting a legitimate shut down defenceman who is solid in his own zone, and although not physically punishing, is positionally sound. While he certainly won't replace Tom Gilbert, he fills an equally important role on the Oilers blue line, the need for consistency and poise in our own end. Between Schultz and Smid, the Oilers now have a decent NHL shut down pairing that can hopefully compete against the likes of Henrik and Daniel, Datsyuk and Zetterberg, Thornton and Marleau, Carter and Richards etc. While the Oilers may have given up the best player in the deal today, the reality is that success in the NHL comes from the blue line out and after finishing 30th twice and sitting in 29th today, a change was needed. Hopefully today's deal will help to add balance and consistency to the young defensive corps moving forward.
In other news, the Oilers went 2 for 3 on the powerplay tonight in their win against the Jets. With those two goals tonight their powerplay now sits at an impressive 21.8%, which is good enough for first overall in the NHL. What a difference it's been compared to just a year ago. Last season the Oilers finished with the 4th worst PP at 14.5%. Adding the creativity of Ryan Nugent-Hopkins to the finishing ability of Jordan Eberle and Taylor Hall has done wonders for the man advantage. Not to mention, having Ales Hemsky to quarterback the 2nd unit doesn't hurt either. Not only has the PP seen a significant rise in success this season, but the PK has improved dramatically as well. A year ago the Oilers finished with the 29th ranked PK and today it sits at 14th overall. The best teams in the NHL typically owe their success in part to their special teams. If the Oilers are going to move forward into playoff, and perhaps cup contention in the coming years, they will need their PP and PK to continue to be a strength.
Follow me on twitter @sportsguy83